Open Call: Rupert Residency Programme 2022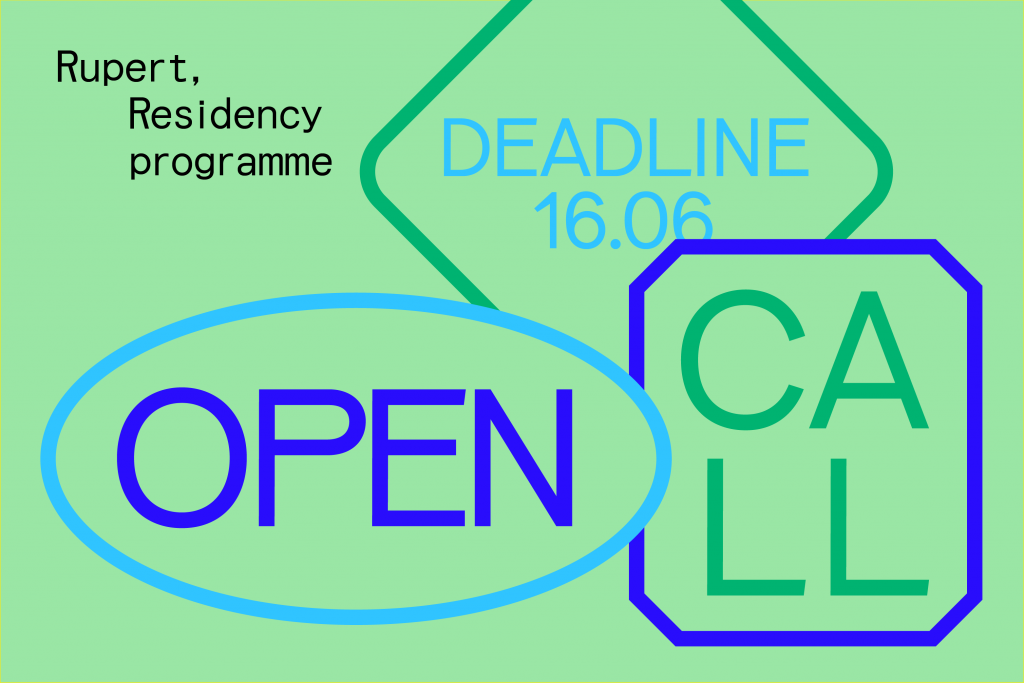 Rupert's residency programme is calling local and international practitioners and thinkers (artists, writers, curators, researchers, cultural managers and academics) willing to live and work in Vilnius from 1 to 3 months (between 1 January 2022 and 31 December 2022) developing individual or collaborative projects, reflection and research while immersing themselves in the region's contemporary art field.
Prospective residents are encouraged to specify whether their intended proposal is more research-based or oriented towards a production-based project, requiring particular materials or utilities. They should consider and indicate in their application the desired length of their residency and the reasons for choosing this particular time frame.
Residents can apply with a project proposal exploring any subject. We encourage residents  to immerse in Vilnius' and the region's contemporary art-related contexts. We also welcome residents to engage with Rupert's public and alternative education programmes' themes, although this is certainly not a requirement. Additionally, Rupert provides a variety of opportunities to reach out to audiences through different channels of communication such as the Open Studio podcast series or Rupert's Journal, as well as by contributing to the programmes of locally based institutions and project spaces
ABOUT RUPERT 
Located in the picturesque area of Valakampiai in Vilnius and only a short distance from the lively city centre. Rupert is set by the river Neris and a small beach, surrounded by peaceful fields and a forest. The three residency studios are located in a building designed by award-winning Lithuanian architect, Audrius Ambrasas. The facility houses a number of creative industries, including Rupert. Each resident is provided with a studio space with a mezzanine (approximately 52 sq m.) to be used as a production and research space during the residency. The studio is fully furnished and equipped with WiFi. The building also houses a reading room, conference room and a kitchen, all of which are open for residents' use.
Rupert provides residents the following: furnished studios, curatorial support, a minimum of 2 studio visits or feedback sessions, administrative help, access to required contacts (when possible), tools, materials and information for research and production.
All the residencies are FREE this application round thanks to support from the Lithuanian Council for Culture. The studios are provided by the creative industries hub Tech Arts. In most cases, applicants are responsible for covering personal (daily and travel) expenses. Rupert's team will issue acceptance letters for successful residents and support their applications for external grants to cover travel, food, production and other costs.
RESIDENCY DURATION
Individual residencies can last from 1 to 3 months. Residents are asked to propose their preferred duration of stay and, if accepted, this can be negotiated according to studio availability and schedule. Artist collectives of up to 3-4 persons can apply to an individual residency spot.
APPLICATION GUIDELINES
There is a 15 € application fee towards administrative costs of the residency Open Call. It can be paid via PayPal through Rupert's website before midnight, Wednesday 16 June, 2021. Bank transfer can also be arranged if the applicant does not have a Paypal account.
For your application you need to submit the following as ONE PDF (up to 15mb in total):
— Residency Application Form (Download here)
— CV
— Portfolio (no more than 5 works; the number of images for each work is not limited)
— Application fee payment receipt 
Send your application, titled 'Full Name_Residency application 2022' with the same subject line, to residencies@rupert.lt by midnight EEST, Wednesday 16 June, 2021.
Successful applicants will be selected for online or live interviews with the residency admissions jury (Rupert's team and an external member), which will take place shortly after the application deadline. 
The results of this open call will be announced by the end of August, 2021.
PARTNERS OF THE RESIDENCY PROGRAMME

Goethe-Institut Lithuania
Italian Cultural Institute in Vilnius
Nordic Culture Point
Tech Arts
COVID-19

Rupert follows Covid-19 national and international regulations, and continues providing the residents with the opportunity to come to Vilnius. Rupert will be in touch directly with each of the selected residents prior their arrival to the residency.