Rupert Reading Session #17 Anna Mikkola: Porous Knowledge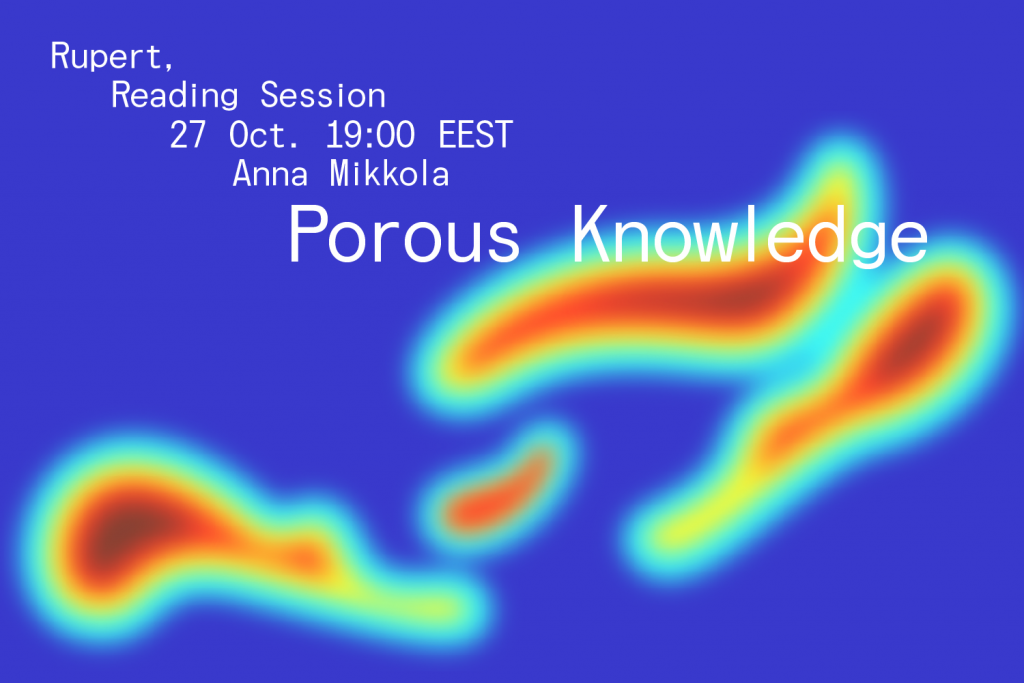 Rupert continues its monthly reading sessions! Every month, a member of Rupert's team or an invited guest selects material to discuss. The reading sessions are open to anyone by registration. The 17th online reading session 'Porous Knowledge' with Rupert's former resident Anna Mikkola, will take place October 27th, 19:00 EEST via Zoom platform.
REGISTER HERE UNTIL THE 25TH OF OCTOBER
There will be a maximum of 25 registrations for the reading session, selected on a first come first serve basis. Extracts from the texts and a Zoom link will be sent to registered participants.
About the session
Anna Mikkola will host a reading session with a screening of a video Ghost in The Climate (2019) exploring what porous knowledge creation, especially concerning the environment, might mean in an algorithmic world filled with networked images. The readings will cover aspects that relate to or extend the video such as environment as an assemblage, uncertain knowledges, climate modelling and sensing, noise that is missed by patterns, shimmering data images and intertwined agencies. The session is also a prompt to discuss how different types of texts, moving images and knowledges can be embodied through artistic practice.
Anna Mikkola (Finland) is a London based artist, working with moving image, text, sound and  installation art. Her work explores how technologies shape people's subjectivity and relationship with the environment. Weaving different real events and fictions, she reflects on knowledge infrastructures and how futures are constructed through networked images.
Her work has been exhibited at the Institute of Contemporary Art (London), Somerset House (London), SPACE (London), Jupiter Woods (London), Sonic Acts (Amsterdam), Rewire (The Hague), Index (Stockholm), Knipsu (Bergen), Trust (Berlin), FUTURA (Prague), L'Inconnue (New York) and others. Mikkola received her MFA from Goldsmiths, University of London. She is an artist in residence at the Somerset House Studios (London) and a lecturer at several universities, most recently at the Central Saint Martins, University of the Arts London.
Rupert's activities are supported by the Lithuanian Council for Culture
You can support Rupert on Patreon