THE HOLOGRAM: A Peer-to-Peer Care Protocol. CONVERSATION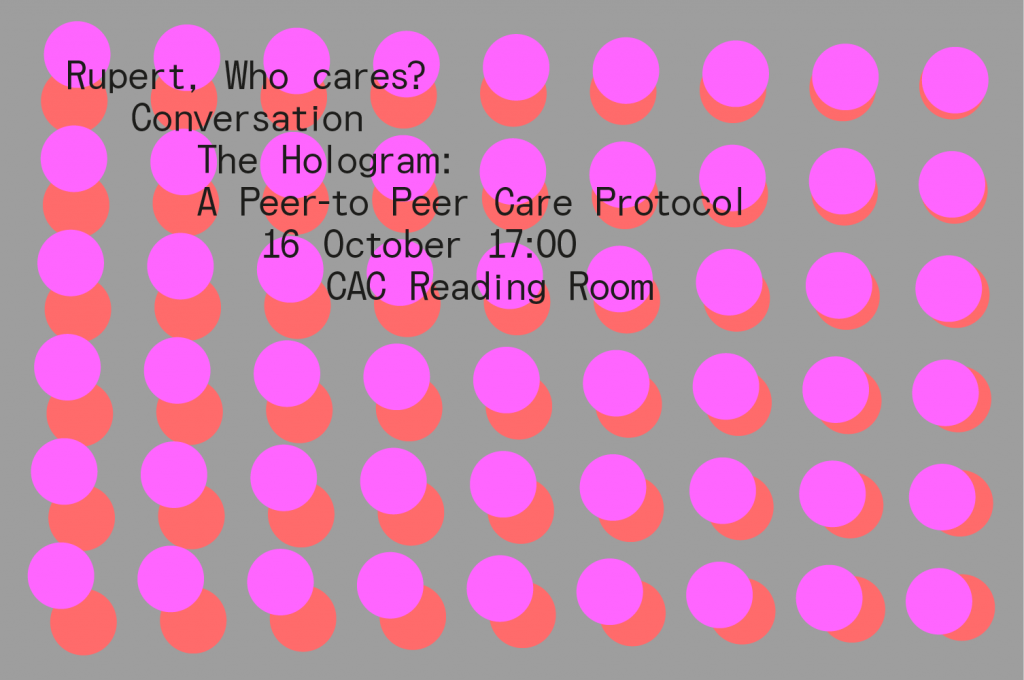 Can we do this without experts?
Can we do this without space?
Can we do this without money?
Can we do this without stability?
Can we do this when we are all a little sick?
Can we do this when we have been taught that we can only trust experts?
Can we do this when we don't even trust ourselves?
Excerpt from Cassie Thornton's book "The Hologram: Feminist, Peer-to-peer health for a post-pandemic future", 2020. London, Pluto Press.
You are kindly invited to 'THE HOLOGRAM: A Peer-to-Peer Care Protocol' conversation that will happen on 16 October, 17:00 at the CAC Reading Room (Vokiečių street. 2, Vilnius), with curators Magdalena Jadwiga Härtelova and Agnė Bagdžiūnaitė, moderated by Karolina Rybačiauskaitė, a researcher of techniques of care.
This talk will be accompanied by the Hologram workshop. More information about the workshop.
ABOUT HOLOGRAM
The Hologram practice proposes a way in which comprehensive health care could be accessible to everybody regardless of resources. It is based on the belief that we are a cooperative species and our health is interconnected. Therefore, it is not enough to simply "take care of ourselves", but it is necessary to self-organise and build a community health infrastructure. 
In response to the idea of Hologram practice, this talk will focus on the possibilities of community organizing within and outside art institutions. How can we create an infrastructure where "everybody who cares is also cared for," as The Hologram promises? What are the challenges ahead of us? Is the space of art institutions conducive to the creation of and experimentation with such anti/post/capitalist techniques of care? And more generally, how can we rebuild our sense of togetherness and create communities that would support us?
Short video about The 'Hologram'
Learn more about 'The Hologram'
GUESTS
Magdalena Jadwiga Härtelova is a Czech-Sorbian curator and artist living in Berlin. She holds a MA degree in Curatorial Practice from California College of the Arts. In her practice, she hopes to cast spells that will latch on our wishes for connection and on our words of care and force us into actually cooperating on material change. Currently, Härtelova runs a gallery in her bedroom called Mehringplatz 20 and is the co-conspirator of The Hologram project, a viral peer-to-peer care protocol for surviving and fighting capitalism initiated by Cassie Thornton. 
Agnė Bagdžiūnaitė lives and works in Kaunas. She holds a MA degree in gender studies (Central European University, Budapest) and political science (Vytautas Magnus University, Kaunas). Her research interests include art and politics, the theory of critical feminism, social reproduction, and social movements. At the moment Bagdžiūnaitė is curating a residency programme DeMo (Decoding Modernity) and various event series and community-based projects at Kaunas Artists' House. She is also part of the collective which runs social centre "Emma" in Kaunas, left media platform "Gyvenimas per brangus" (Life is too expensive/dear) (gpb.lt) and organises activities of Gegužės 1-osios (May 1st) labour union.
Karolina Rybačiauskaitė is a PhD student at the Philosophy Institute of Vilnius University also graduated in History and Theory of Art at Vilnius Academy of Arts. In her research, she seeks to extend the meeting points between the speculative account of the ecology of practices introduced by Isabelle Stengers, and the current curatorial attempts to transform contemporary art practices. Recently she published a zine "When carrying becomes caring" (2020) that embodies her attempt to explore how 'matter matters' in the practices of contemporary art: how artists establish the careful(l) relationships with their materials and create their own methodologies of caring.
ACCESSIBILITY INFORMATION: 
The events are free of charge. The conversation will happen in the English language.
The conversation will happen at the CAC Reading Room. 
DOORS AND STAIRS
The width of all the doorway passages in CAC is in compliance with the latest requirements. Blind and partially sighted visitors and those with motor disabilities are advised to bring their carers.
THE BUILDING PLAN
Our entrance is at street level and provides level access to the front desk and the Reading Room. The Cinema and the exhibition halls are on the first floor and wheelchair users will require assistance to access this part of the building. Toilet facilities are located via steps to the basement, however they are not suitable for wheelchair users.
More about the accessibility of the space
COVID-19 information
Come either with proof of full vaccination (>14 days after the final dose), proof of being recovered from Covid19, or with a negative test-result (not older than 24hrs).
According to a decision of the Minister of Health of the Republic of Lithuania, it is compulsory to wear nose and mouth protection (face masks, respirators) that fits snugly to the face and completely covers the nose and mouth during public events. The non-wearing of masks is allowed for persons who, due to their medical condition, are unable to wear masks or whose wearing of masks may impair their medical condition.
The workshop and talk are organised by Karolina Rybačiauskaitė and Margarita Žigutytė 
This workshop is partly funded by Lithuanian Council for Culture and is part of the project 'Who Cares?' co-funded by the Creative Europe Programme of the European Union.
In partnership with Contemporary Art Center