THE HOLOGRAM: A Peer-to-Peer Care Protocol. WORKSHOP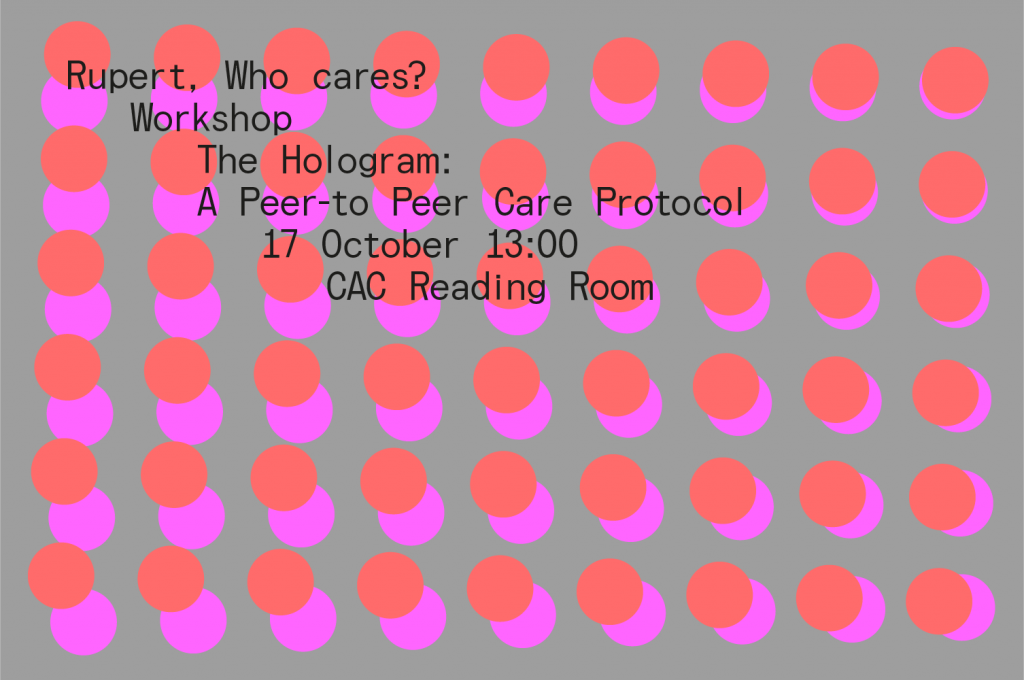 Rupert is kindly inviting all to 'THE HOLOGRAM: A Peer-to-Peer Care Protocol' workshop that will happen on 17th October, 13:00 at CAC Reading Room (Vokiečių street 2, Vilnius) and will be led by Berlin based curator and artist Magdalena Jadwiga Härtelova. 
This workshop is offered for "incomers" (people who are new to The Hologram) to learn about the history and reasoning behind The Hologram practice, as well as an opportunity to experiment with it together. The practice itself values and puts together the processes of personal introspection, social cooperation, and strategic anti-capitalist organization. 
The workshop takes 3 hours and is composed of ⅓ part presentation, and ⅔ part participation. Everyone who joins us will be well supported, challenged, and invited to join the larger global Hologram community of practitioners. 
Registration to the workshop (limited spaces) 
This workshop will be accompanied by conversation. More information about the conversation
What is The Hologram? 
It is a practice in which three non-expert participants are proposed to create a three-dimensional "hologram" of a fourth participant's physical, psychological and social health. The fourth participant that is called "Hologram" teaches their caretakers how to care for them. Later each of three participants are building their own triangle of caretakers in an expanding network.
One part social practice, one part technology of revolution, and one part feminist science fiction come to life, The Hologram is a lightweight, replicable, autonomous protocol for human cooperation. Its model includes a structured protocol for distributing care virally, to ensure that everyone who gives care is cared for. The Hologram is also a fast-growing, international network of people practising this precise form of distributed non-expert healthcare. From beds and sofas in USA, Canada, Mexico, Palestine, Singapore, India and across Europe, we've been meeting online since April 2020 to create a strong, self-sustaining network of listening and trust that we all need in order to outlive the broken society in which we live.
Magdalena Jadwiga Härtelova is a Czech-Sorbian curator and artist living in Berlin. In her practice, she hopes to cast spells that will latch on our wishes for connection and on our words of care and force us into actually cooperating on material change. Currently, Härtelova runs a gallery in her bedroom called Mehringplatz 20 and is the co-conspirator of The Hologram project, a viral peer-to-peer care protocol for surviving and fighting capitalism initiated by Cassie Thornton.
Short video about The Hologram'
Learn more about The Hologram
ACCESSIBILITY INFORMATION: 
The workshop will be free of charge.The workshop will happen in English language
The workshop will happen at the CAC Reading Room. 
DOORS AND STAIRS
The width of all the doorway passages in CAC is in compliance with the latest requirements. Blind and partially sighted visitors and those with motor disabilities are advised to bring their carers.
THE BUILDING PLAN
Our entrance is at street level and provides level access to the front desk and the Reading Room. The Cinema and the exhibition halls are on the first floor and wheelchair users will require assistance to access this part of the building. Toilet facilities are located via steps to the basement, however they are not suitable for wheelchair users.
More about the accessibility of the space
COVID-19 information
Come either with proof of full vaccination (>14 days after the final dose), proof of being recovered from Covid19, or with a negative test-result (not older than 24hrs).
According to a decision of the Minister of Health of the Republic of Lithuania, it is compulsory to wear nose and mouth protection (face masks, respirators) that fits snugly to the face and completely covers the nose and mouth during public events. The non-wearing of masks is allowed for persons who, due to their medical condition, are unable to wear masks or whose wearing of masks may impair their medical condition.
The workshop and talk are organised by Karolina Rybačiauskaitė and Margarita Žigutytė 
This workshop is partly funded by Lithuanian Council for Culture and is part of the project 'Who Cares?' co-funded by the Creative Europe Programme of the European Union.
In partnership with Contemporary Art Center