Rupert residents invite to explore how things become symbols in the third 'Articulations' event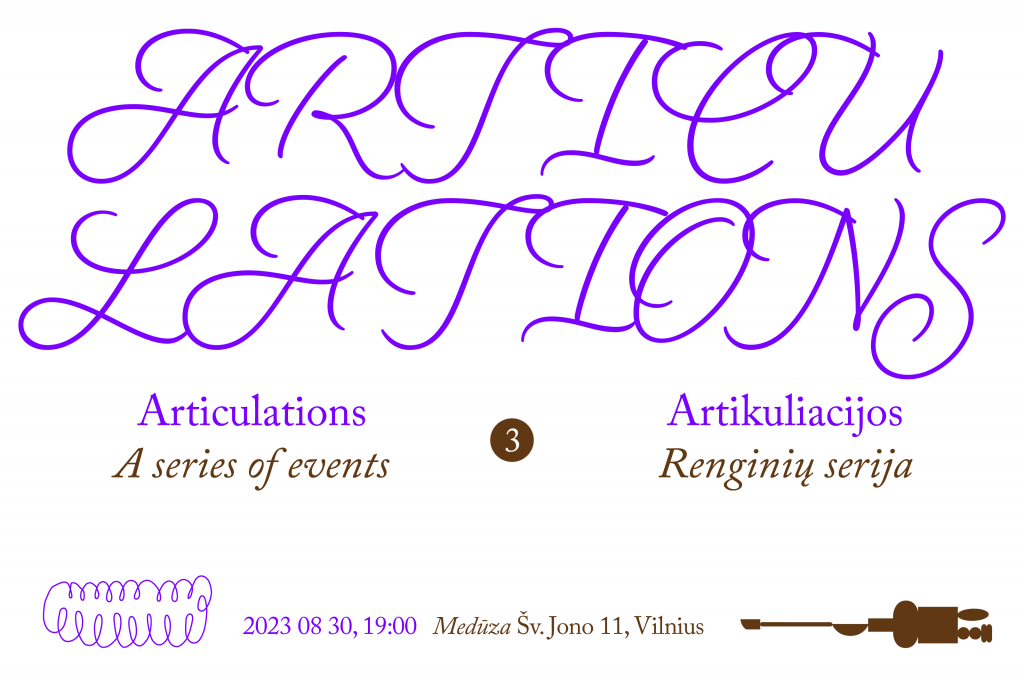 Date: Wednesday, 30 August, 19:00
Location: Medūza (Šv. Jono St. 11, Vilnius)
Participants: Amy Watson, marc n hörler, Monika Uchiyama and Fred Schmidt-Arenales
The event will be held in English
Autumn comes slowly, announcing itself with yellowing leaves and a colder wind that makes you pinch your toes. Even if you try to delay summer by holding on to its last colourful flowers, you witness a change in nature and yourself. The third event of Articulations will be about rethinking, the continuation of artistic works and the artists' progress after coming to Vilnius.
We invite you to welcome the new season during the third event of the Articulations cycle, where Rupert's residents will share their creativity and work. On one of the last evenings of summer, in the bright space of Medūza, audio-visual stories, steeped in the intimate experiences of their creators, will make themselves heard once again. During this event, everyone will be able to enjoy the stories, ask questions directly and chat informally with the artists after the presentations.
This event features independent curator Amy Watson (ZA), artist, poet and perfumer marc n hörler (DE/CH), and artist-filmmakers Monika Uchiyama and Fred Schmidt-Arenales (US/JP).
Amy Watson is an independent curator and the director of POOL, a not-for-profit art organisation, currently based in a public park in Cape Town (South Africa). POOL supports early and mid-career practitioners through collaboration, as well as the commissioning and presenting of new work. Amy's intellectual project is located in creative production in the context of the Anthropocene in the Global South.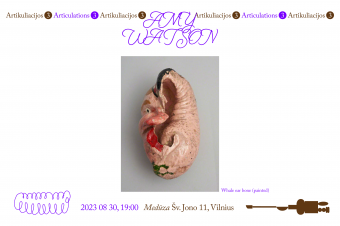 In Articulations, she outlines her recently curated projects, including the ongoing cross-disciplinary research project The Orange River Project (2022–). While in residency at Rupert, Amy has been considering the whale's tympanic bone as an orienting talisman to trace the oceanic histories of whaling and the colonial project, exploring how these histories are produced in more-than-human relations.
marc norbert hörler is an artist living and working between Berlin and Appenzell whose practice encompasses poetry, song, fragrance, writing, performance, curating and publishing. In working with language and the senses, marc composes spatial, sonic and olfactory environments with an interest in sensory storytelling and diachronic linguistic weavings.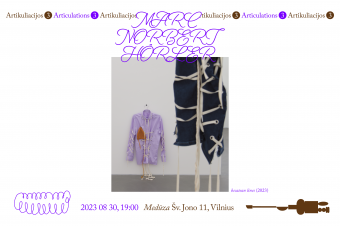 For the event, marc will introduce hecatean lines, a composition of new works that interact with alpine folkloristic forms and aesthetics from a queer perspective, based on a continuous research on witchcraft in Appenzell.
Fred Schmidt-Arenales and Monika Uchiyama are artist-filmmakers working on their first collaboration at Rupert.
Monika Uchiyama is an artist from Tokyo working in documentary film and photography. Her films have been screened at Film at Lincoln Center (New York City), Institute of Contemporary Art (Philadelphia), Tokyo Photographic Art Museum, and Goethe Institut China (Beijing). She received her BA from CUNY City College of New York and her MFA in Interdisciplinary Art from the University of Pennsylvania.
Fred Schmidt-Arenales is an artist-filmmaker whose works attempt to bring awareness to unconscious processes on individual and group levels. Fred has exhibited films, performances and installations internationally at venues including SculptureCenter (New York City), FotoFest and the Museum of Fine Arts (Houston), Institute of Contemporary Art and Lightbox (Philadelphia), Kunsthalle (Vienna) and Künstlerhaus Halle für Kunst und Medien (Graz).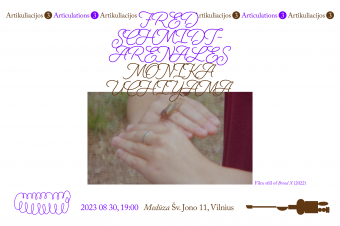 For Articulations, Fred and Monika will present a rough cut of their in-progress feature-length film Untitled Brood X Film. The film focuses on the 2021 periodic cicada emergence in the eastern United States. In the film, cicadas function as metaphors for the unconscious, an imagined construction of new human social structures, the fear of ego death and much more.
Hopefully, the penultimate summer evening will carry us in a starting breeze towards the gleaming season.
Articulations is the joint initiative of Rupert, a centre for art, residencies and education, and Autarkia, an artist daycare centre. This cycle of seasonal public events provides opportunities to informally meet Rupert's artists-in-residence and discover their work.
.
Coordinators of the third event: Rugilė Miliukaitė and Povilas Gumbis (Rupert)
Communication: Karolina Augevičiūtė
Graphic design: Jonė Miškinytė
Editors: Dovydas Laurinaitis (EN), Evelina Zenkutė (LT)
Sound: Antanas Dombrovskij
Rupert is financed by the Lithuanian Council for Culture and sponsored by Vilnius City Municipality, Nordic Culture Point, Tech Zity
Special thanks to Audrius Pocius and Eglė Agnė Benkunskytė (Medūza)