30 May, 2015, 3 pm
Open Studios
An Appetite for Violence & Open Studios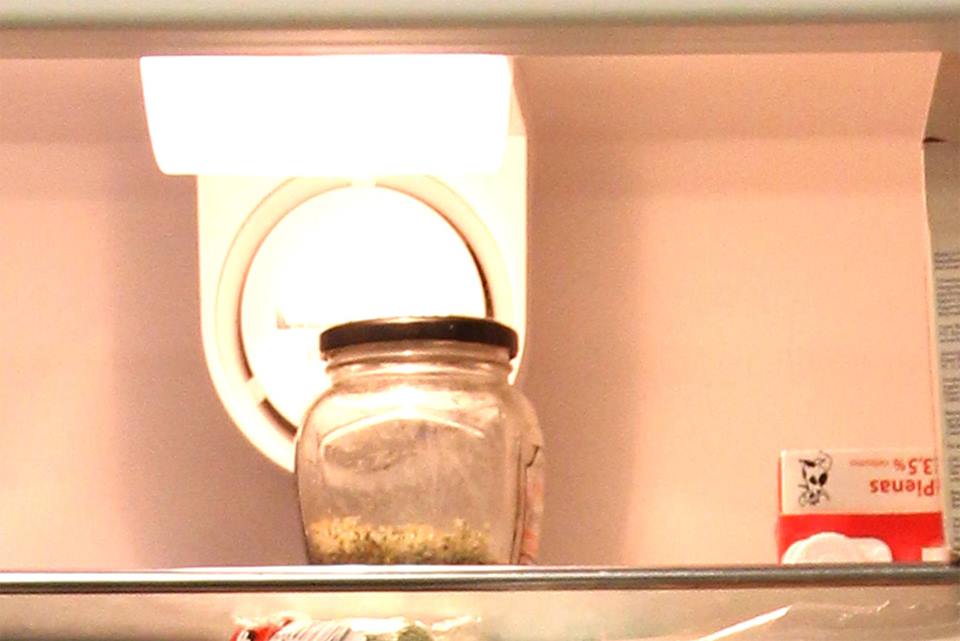 Come watch, listen and taste an abrasive sequence of film clips handpicked by Rupert residents Anna Clawson and Nicole Ward, alongside works presented by Beth Collar and Post Brothers.

There is a FREE MINIBUS TO RUPERT FROM THE CITY CENTRE leaving from the Cathedral car park (by the bell) at 2:20 pm and 2:50 pm on the day of Open Studios (Saturday 30 May). Sign up here: http://bit.ly/1FRpaXq

Anna Clawson & Nicole Ward (b. 1986/87, Northern Ireland) are an artist duo currently based at Spike Island in Bristol, UK. Engaging in a wide range of materials, their practice is tainted by an on-going curiosity in closed networks, where thresholds can act as both an entrance and an exit. This interpretation is driven by a fascination with film set within a single location and the generic television sitcom. Contained within manufactured and fictional settings, television sitcoms are currently used as metaphors to hint at the progress within closed networks. Behind the outward-facing sign EIVOM EMOH, the artists will produce a new body of work while at Rupert, set within a manufactured scenario (like the tampered lock of a closed door).
Beth Collar b.1984, Cambridge, UK, is an artist working in performance, video and sculpture. During her time at Rupert she will be working on a new body of work concerned with feminism which will be shown at the Glasgow Women's Library in 2016. Forthcoming projects include a performance at the Serpentine (2015), an artist book for David Roberts Art Foundation, London (2015); a solo exhibition at Friends Gallery, Glasgow (2015), a group show at Cubitt, London (2015). She has recent performances at spaces including Hayward Gallery, London, Field Broadcast (online), Modern Art Oxford, Flat Time House, London and Jerwood Space, London. Recent exhibitions include Anatomy of Anxieties, Edouard Malingue Gallery, Hong Kong, 2014, SOME CHTHONIC SWAMP EXPERIENCE, a solo show at Tintype project space, London, 2014, Edition One, residency at Detroit, Bristol 2013/14; From script to reading to exhibition to performance to print, Rowing, London, 2013; Wendel! Open Your Door, Café Gallery, London, 2013; We Object, Aid and Abet, Cambridge, 2013, ANCIENT BRITAIN, solo presentation and residency at The Woodmill GP, London 2012; Whitechapel London Open, Whitechapel Gallery, 2012.
Post Brothers is a critical enterprise that includes Matthew Post—an independent curator and writer working between Białystok, Berlin, Antwerp and Oakland. Post Brothers received an MA in Curatorial Practice from the California College of the Arts, San Francisco (2009); and a BFA from Emily Carr Institute, Vancouver (2006). He has curated exhibitions and presented lectures and projects in Poland, Mexico, Canada, the United States, the United Kingdom, Germany, Austria, Lithuania, Italy,Greece, Finland, Belgium, The Netherlands, and China, where he contributed a video and an unrealized screenplay in the 9th Shanghai Biennale (2012). He recently curated "By the Apparent Impossibility of Arranging Signs" at Galeria Arsenał in Białystok (2014), "12 Hours," at Galerie Kamm in Berlin (2014), "The Excluded Third, Included," at Galerie Emanuel Layr in Vienna (2014) and "Clinamen" at Xawery Dunikowski Museum of Sculpture (Krolikarnia), Department of the National Museum, Warsaw (2013). He has an ongoing library/publication project, "Memoirs Found in a Bathtub", at Objectif Exhibitions in Antwerp. His essays and articles have been published in Annual Magazine, the Baltic Notebooks of Anthony Blunt, Cura, Fillip,Kaleidoscope, Mousse, Nero, Art Papers, Pazmaker, Punkt, and Spike Art Quarterly, as well as in numerous artist publications and exhibition catalogues. While at Rupert, Post Brothers will be researching and preparing a lecture/ performance/ video entitled "An Ideal Museum Is All Wet", that dives into a heterogeneous blend of history, mythology, science, music, pop culture, philosophy, politics, current events, and art in order to salvage a certain "underwater politic" lying deep below the surface, mapping a shift from underground strategies to more liquid and aqueous approaches. An attempt at considering the effects of rising sea levels on culture and its institutions, the project fluidly moves between utopian and dystopian images of underwater society, journeying deeper and deeper into research, and accumulating more and more atmospheric pressure as it sinks into uncharted terrain. Also during his stay at Rupert, Post Brothers will be working alongside numerous collaborators and conspirators to curate a solo exhibition of the works of Vilnius-based artist Liudvikas Buklys at CAC in Vilnius.