The insider outside – 6th Alternative Education Programme Exhibition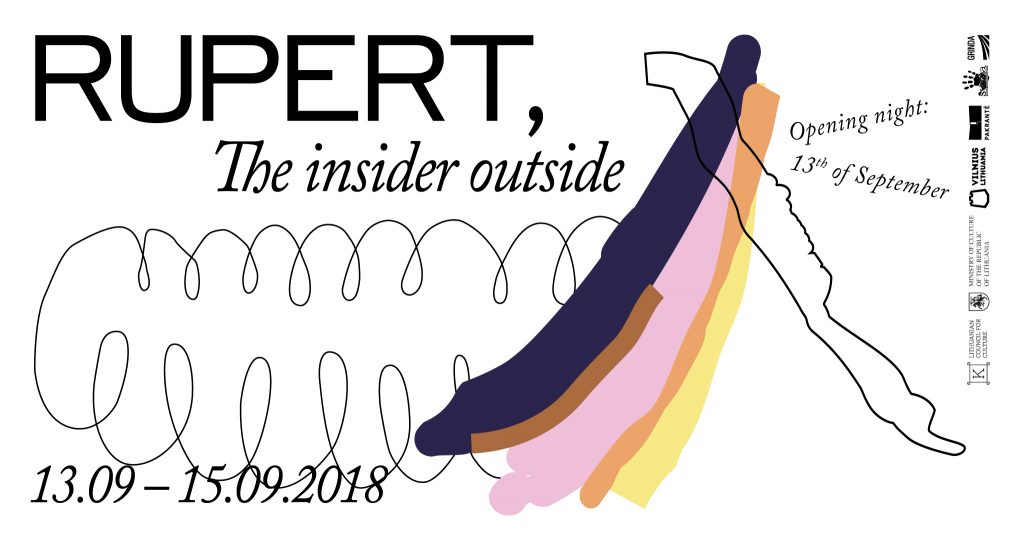 Rupert is pleased to invite you to The insider outside, the final exhibition of the 6th Alternative Education programme, presenting new works by participants Monika Janulevičiūtė & Antanas Lučiūnas, Milda Januševičiūtė, Ona Juciūtė, Marjolein van der Loo, Vytautas Stakutis (Wall Unit in collaboration with Julija Matulytė), Rytis Urbanskas, Naglis Kristijonas Zakaras. The opening will take place on Thursday, September 13th from 7pm at Rupert (Vaidilutės str. 79) ground floor and outdoor spaces and will feature works developed and produced during the programme. The closing night will take place on September 15th from 7pm. The events are free of charge and open to public, light refreshments will be served.
6th Rupert Alternative Education programme is curated and coordinated by Adomas Narkevičius. The final exhibition The insider outside is co-curated by Giulia Civardi and Adomas Narkevičius.
Opening times:
September 13th 7 pm – 10 pm (with a performance by GIRLISONFIRE)
September 14th 10 am – 6 pm
September 15th 12 pm – 10 pm (with a performance by GIRLISONFIRE at 8 pm)
Slow down, pause, linger.
A song in reverse, she sings at pace, a sheet breathes along the wall. A loss of control over the body, an unpleasant sensation slips into the mind: doctors try, but damage cannot be undone. There's no quick-fix. The affective-corporeal self is turned inside-out. No alternative but to revise reason, to subject it to the jolt provoked by the realisation of an illness. Intimacy requires not to remain private anymore. A leap of faith might make you fall, but from now on, hope no longer feels so passive.
The Earth spins. Days aimlessly follow throughout the week. We build cities for work, not for us, as we walk in and out of cycles of exhaustion and exuberance. Cosmic rhythm alters emotional and intellectual states, as much as human structures of time, but can enhance lost sensibilities. Following the lunar cycle in concert with planetary matter concerns pleasure, and caring for synchronicity rather than for moments of solitary fulfilment.
There are people who talk while dancing, not a lot, but a few. A girl in a worker suit tells a story about the time she felt used when talking to a stranger online. Haven't you heard? Her privacy, semi-undisclosed, impregnates the air – now drenched in a botanical scent manifested from memory. How do you think she feels now?
Simultaneously, other bodies come together, alternating. Multiple languages overlap, permeating their restless moves. Suspended between recovery and excess, people keep dancing on the verge of break-through.
A bone hole of liquid marble
Full bodied, yet empty with value
is brought by a dog, into the spotlight.
How does it feel to see it through a window, when strolling by.
How much do you want to own it now, dressed in unwanted designer garments, which can only fit a protean body. Where did these objects come from before ending up here,
where will they go, now recomposed, un-destructed. Have they acquired an ancient value through this process or have they returned to a new state of desirability?
Many things have now changed their place and are no longer fulfilling their expected functions. Painted images slip away from pristine walls into traffic signs, hand-cut potato chips remain suspended between earth and rooftops. Across the room, the forest appears inside cabinets, which have been brought back inside, into memory, after roaming for some time in city streets. As spaces turn inside-out, into domestic highways and arboreal corridors, ideal beauty resets itself, daringly, into a brief interruption.
A roaring sound explodes in the city. It echoes and quickly evaporates, but it doesn't quite fade from the memory of he who desires to capture its violent ecstasis. He tries to chase the noise, drawing metal scores in the air, but who he is kidding? It slips away, disappearing between city-scapes and sea-chants, waiting to reemerge somewhere, unannounced.
Invisible forms of violence, held captive in canned sounds and decimal codes,
rest on the cold stones of Gedimino Avenue, inscribed with two waves of protests and silences in-between. Speakers bark at each other, stories branch out. Their roots cannot be traced back, nor can be found in someone's garden. Quick! Dig! Now, disappear.
On 13 September, there will be a free shuttle bus operating between Vilnius center and Rupert. The bus departs from the main entrance to Bernardinai garden (Maironio street) at 6:30 pm, and returns after the event at 9 pm. Registration for the bus.
Rupert 6th Alternative Education Program is supported by Lithuanian Culture Council, Ministry of Culture of the Republic of Lithuania, Vilnius City Municipality, Pakrantė, UAB Svema, UAB Grinda.