Evelyn Wh-ell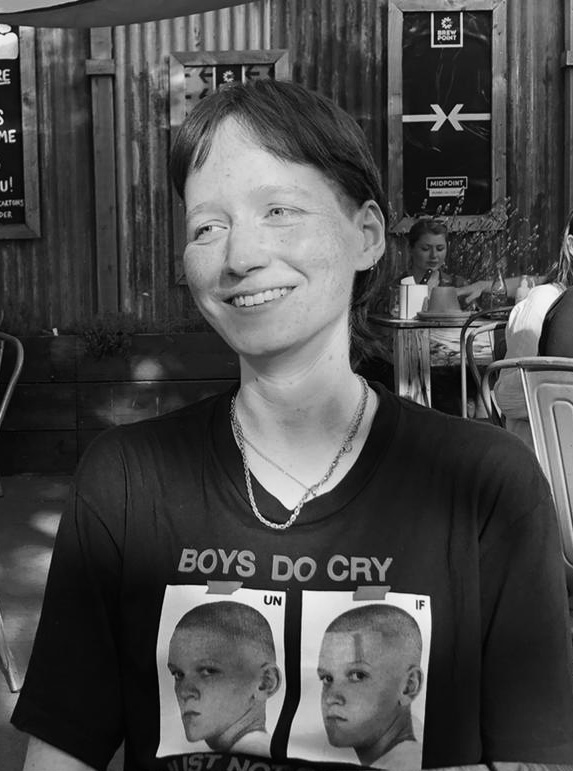 Evelyn Wh-ell (UK) is an artist, writer and researcher living in Cambridge. Their practice makes use of trans forms and aesthetic strategies, working with parody and humour to explore the 'traps' of gendered subjectivity. Their first monograph, Memoirs of a Child Plot Hole: How to Escape Yourself Without Even Trying was published in 2022 by Sticky Fingers Publishing. They are currently a CCA Derry~Londonderry 2022-2024 Research Associate, where they are developing a collaborative writing project about folk devils, queer masculinity, dress codes, screen violence, and predictions of one's own impending death.
Evelyn's writing has been published by Another Gaze, Art Monthly, Cambridge Literary Review, World Picture Journal, and permeable barrier, and they were a Commissioned Writer for New Contemporaries in 2022. They were a 2022 Resident at Residency 11:11 (London), and have participated in programmes for The Horse Hospital (London), Kettle's Yard and Wysing Arts Centre (Cambridge). 
At Rupert, Evelyn will work on a writing and research project, continuing an existing line of enquiry into trans genres. During the residency, they will produce a new choose-you-own-adventure text piece, drawing together histories and theories of trans visibility, internet wormholes, and subject formation to explore the relation of gender transition to the production of narrative forms.
Images:
Artist's personal archive (above);
Research image from artist's personal archive (below).